Investor Overview
Corporate Profile
The people of the companies of Universal Forest Products, Inc., are highly focused on shareholder value. Why? Because we're honored by and grateful for those who recognize Universal as a solid investment and long-term performer.
That's why we work hard to create value in every step of every process. We look for opportunities to enhance our processes, products, and opportunities. We undertake long-term plans that create prudent, sustainable growth. We work hard to keep our pipeline filled with the best, hardest-working employees around. We do this to make sure our customers consider us a valuable partner.
Mostly, we do everything we can to exceed expectations at every turn.
Among the keys to our success are our diversified, balanced business model, our ability to use all grades of lumber (creating efficiencies and making us a preferred customer for the largest mills), our strong, aggressive management team (whose members are required to own stock and whose compensation is based significantly on ROI), our focus on continuous improvement, and our financial strength.
We also think we have advantages in our Midwestern values of hard work, honesty and determination, and in our fiscally conservative practices. Maybe that's why we've been profitable each year since our founding in 1955.
Copyright West LLC. Minimum 15 minutes delayed.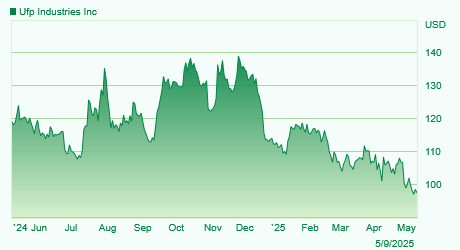 News Releases
October 24, 2019 at 4:05 PM EDT
Upcoming Events
There are currently no events to display.